Personal Loans
for Veterans With Bad Credit
If you have less than perfect credit, your eligibility to apply doesn't stop here! It's possible for military members with bad credit (and their spouses) to be approved for loan options at VA Financial. A veteran loan for bad credit offers plenty of benefits, like personalized interest rates and tailored payment plans. With rates dipping down to 5.99% (depending upon credit score) and cash available up to $40,000, these bad credit loans make financing your next big purchase an affordable reality.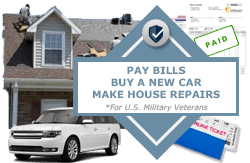 VA Mortgage Loans up to $417,000 with no down payment.
Business loan amounts for veterans up to $350,0000 and 1-5 year terms.
Apply for a personal loan for any purpose, up to $40,000 with fixed rates.
Applying is easy. Simply choose a repayment plan that fits your budget, review the loan benefits, and get cash. The application process is cut and dry: review and submit! Don't be disappointed by applying for financing from a traditional bank, only to be rejected. At VA Financial, those with bad credit won't be automatically disqualified! More than just your credit score is considered during the qualification process. So get started now. Apply from anywhere, anytime – without impacting your credit score.

Begin My Application