VA Financial
Rates & Terms
Because of the heroic service to our country you have given us, active duty military members, veterans, and their family members can apply for loans with better rates and terms than the general population is often offered.
Service members and veterans can apply for a VA home loan up to $417,000 (sometimes higher for high-cost counties), business loans (up to $350,000!) with rates as low as 5.9%, or personal loans (up to $40,000) to use for any purpose with interest rates as low as 5.99%.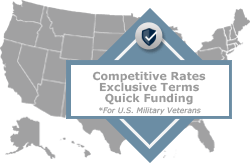 VA Mortgage Loans up to $417,000 with no down payment.
Business loan amounts for veterans up to $350,0000 and 1-5 year terms.
Apply for a personal loan for any purpose, up to $40,000 with fixed rates.
There is no downside to applying. Checking your rate will not affect your credit score (no "hard inquiry," as the industry puts it). The application process takes just a few minutes. Upon approval of your application and depending on the type of loan you applied for, your money can be deposited directly into your bank account in as few as 2-4 business days.

Begin My Application