Legal
VA Financial
All interest rates, loan terms and amounts listed at VAFinancial.com are illustrations and are not to be considered offers of consumer credit. The applicant's loan terms will be determined by the financial services company who underwrites the borrower's application. Applicants currently on active duty status must apply for financing through an SCRA compliant lender and, in addition to being offered rates and terms specific to active duty military members, may be required to provide a current LES. VAFinancial.com does not underwrite or extend credit to applicants, but directs potential borrowers to licensed creditors. In some cases, financial compensation may be received for this service. VAFinancial.com does not charge any fees to borrowers that utilize our service, and does not collect any personally identifying financial information from the borrower.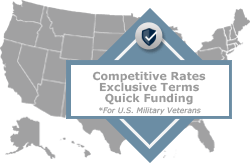 VA Mortgage Loans up to $417,000 with no down payment.
Business loan amounts for veterans up to $350,0000 and 1-5 year terms.
Apply for a personal loan for any purpose, up to $40,000 with fixed rates.