Loans for Military Family Members
Spouse and Dependent Financing
If you are a spouse or dependent of a military member, then VA Financial can offer you an unsecured loan for up to $40,000 with fair rates as low as 5.99%. Since military families are the U.S. Armed Forces most dedicated and valued volunteers, we extend our financial services to military spouses and dependents. Whether you need money for investing in a start-up small business, buying home improvement supplies, or hiring some help around the house, a personal loan at VA Financial can be spent however you like.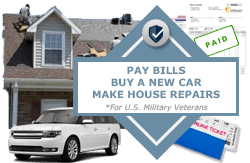 VA Mortgage Loans up to $417,000 with no down payment.
Business loan amounts for veterans up to $350,0000 and 1-5 year terms.
Apply for a personal loan for any purpose, up to $40,000 with fixed rates.
What about your interest rate? And how much will this loan end up costing? These answers and more are available to you through the online application process. Click the 'Apply Now' button to begin your 5 minute application. Once your information is submitted, your interest rate, total loan cost, and monthly payment will be generated. Review your terms on your terms, before accepting the loan. The process is clear and simple. Get approved today!

Begin My Application