Personal Loans for Veterans
VA Financial personal loans
Applying for a personal loan for veterans can get you fast cash without incurring harsh penalties and fees. Expensive car repairs, home improvements, or family vacations can be paid in full, thanks to these affordable loans with low, fixed rates and customizable loan terms. Available to military service members and their families, VA personal loans provide funds you need within days.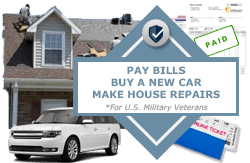 VA Mortgage Loans up to $417,000 with no down payment.
Business loan amounts for veterans up to $350,0000 and 1-5 year terms.
Apply for a personal loan for any purpose, up to $40,000 with fixed rates.
The personal loan options at VA Financial have low, fixed interest rates as low as 5.99% APR. Also, these loans offer long term loan periods of your choosing, between 1 and 5 years. Apply for VA personal loan financing designed just for you. Easy and fast financing starts here.

Begin My Application