Active Duty Military Loan
Financing for Military Members
VA Financial specializes in offering financing to veterans and their families, but we also offer loans to active duty military members and their spouses. A military personal loan for active duty members can provide cash transferred straight to where you need it - regardless of where you are. Use the money for any purpose. The reason for the loan won't affect your eligibility. Maybe you need a personal loan to buy a commuter car or to cover next month's looming bills. Whatever the reason, apply today and quickly reap the benefits.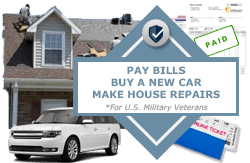 VA Mortgage Loans up to $417,000 with no down payment.
Business loan amounts for veterans up to $350,0000 and 1-5 year terms.
Apply for a personal loan for any purpose, up to $40,000 with fixed rates.
Would you be interested in an SRCA compliant loan with interest rates starting at 5.99%, cash up to $40,000, and no early repayment penalties? Sure, right? And remember, before committing to an active duty loan, you can review your new monthly payment and customized interest rate. Everything's upfront. To gain access to these unique benefits, all you need is a computer with internet access, have active military status, and know your credit score range. Applying won't impact your credit score, so get started today.

Begin My Application