No Credit Check Loan
For Veterans and Military Members
Are you finding it difficult to apply for a personal loan because your lack of credit instantly disqualifies your loan request? Then check out the 'no credit check' loan options at VA Financial. These loans offer military members with poor or no credit history cash up to $40,000 and rates low enough for anyone to afford. Does your spouse need a loan but has little to no credit? Spouses of active and retired military personnel can also apply for these loans with competitive rates, flexible terms, and affordable payments.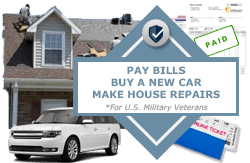 VA Mortgage Loans up to $417,000 with no down payment.
Business loan amounts for veterans up to $350,0000 and 1-5 year terms.
Apply for a personal loan for any purpose, up to $40,000 with fixed rates.
We respect your right to be fully informed before accepting a loan offer. The loan application process at VA Financial provides potential borrowers complete transparency by clearly listing your personalized interest rate, monthly payment, loan costs, and selected repayment period. Take advantage of these benefits and apply today. Since your credit isn't pulled during the application, your credit score won't be affected by applying.

Begin My Application