Debt Consolidation Loan
For Veterans, Active Military, and Families
You may have heard that consolidating your debt into a single loan could reduce your interest rates and decrease your overall debt. But did you know that having only one payment also alleviates a lot of the chaos associated with having multiple loans? Apply for a debt consolidation loan at VA Financial and you could receive up to $40,000 to repay high interest credit card debt or overdue long term loans. This personal loan combines all your debt into one easy to pay monthly payment, often with a lower interest rate. Anyone in the U.S. armed forces, active or retired, and military family members can apply.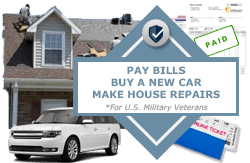 VA Mortgage Loans up to $417,000 with no down payment.
Business loan amounts for veterans up to $350,0000 and 1-5 year terms.
Apply for a personal loan for any purpose, up to $40,000 with fixed rates.
Applying for a debt consolidation loan won't impact your credit score and only takes a couple minutes. Unsecured loans are available, so no collateral is required. Get the cash you need transferred to your bank account in days, not weeks. Use our fast and secure online application to receive your loan rates and terms - no commitment required. You choose if this loan is right for you!

Begin My Application