Credit Cards for Military Spouses
VA Financial Credit Cards
Husbands and wives of current and retired military personnel can apply for a military credit card. Credit cards are valuable financial tools that provide instant access to money and are a convenient way to pay while traveling or buying items online. Military credit cards are an effective credit building tool because your credit use is monitored by credit reporting agencies on a monthly basis. A history of on time payments and low balances can have a positive effect on your credit score, influencing interest rates on future mortgages, car loans, and credit cards. If you need to consolidate higher interest loans, you may be able to transfer those balances over to your new military credit card. It could help you pay down the balance quicker and cheaper, depending on the card and interest rates available to you. If you apply for a rewards credit card, you could be getting up to 5% cash back on gas and military base purchases, 1.5% on all other purchases, or free airfare. However you use your military spouse credit card, this card can give you the flexible financing and cost savings you're looking for.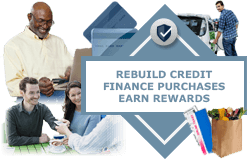 A Military Credit Card offers low interest and short term financing.
In less than 12 months, you may be able to improve your credit score.
Tracking your spending habits can help you budget effectively.
There are military cards for spouses that provide financing with no annual fees, low interest rates, no fees on purchases made internationally, travel and cash rewards, and unique military financial protections. Begin taking advantage of these benefits as soon as possible and apply now for your military credit card.

Apply for Card