Credit Cards for Military Veterans
VA Financial Credit Cards
Military credit cards offer veterans financial backing, security, and rewards that can boost their credit score in the process. Not all expenses patiently wait until payday. A credit card is a simple and convenient way to get upfront funding to cover immediate and unexpected costs. This protects your credit by not missing a payment while giving you some extra time to pay back the money. Do you have an older credit card with interest rates that have increased over time? You can transfer this high cost debt over to a military credit card. A balance transfer can help restore your finances and allow you to repay the balance faster and cheaper. Along with using a low interest credit card to pay off other high interest bills, a credit card for military veterans can help strengthen, establish, or rebuild your credit. Cardholders who get a credit building credit card find that when they use the card responsibly they can over time reverse their bad credit history and often improve their score within a year. These perks plus many more provide veterans a safe choice when looking to apply for a credit card.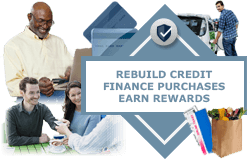 A Military Credit Card offers low interest and short term financing.
In less than 12 months, you may be able to improve your credit score.
Tracking your spending habits can help you budget effectively.
There are several types of credit cards retired military members can apply for that will zero in on their specific financial needs and work to their benefit. Veterans can choose between a credit card for building their credit history, earning cash back and travel rewards, or transferring balances. With responsible use, these credit cards can raise your credit score, earn cash back from qualified purchases, and erase old high interest debt.

Apply for Card