Credit Cards for Military Members
VA Financial Credit Cards
If you are a U.S. military member, career-retired military, reservist, or a family member and are looking for the right credit card that honors the military community's distinct sacrifices, then you can apply for a military credit card. These cards feature special low rates, favorable benefits, and generous rewards. A military credit card for active duty servicemembers and their spouses provides lower interest rates that cap at 4% during PCS or deployment. This grace period is an added savings benefit separate from any relocation allowances offered by the U.S. Armed Forces. While you and your family are moving or preparing for your deployment, you can expect your interest rate on the credit card's existing balance to drop down to only 4%. Also, a military credit card offers both current and retired personnel zero transaction fees on all overseas transactions. You can use your credit card in any country and not accumulate any additional fees. Having a military credit card ensures that you have money when you need it and won't penalize you for your unique situation.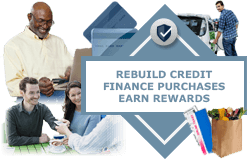 A Military Credit Card offers low interest and short term financing.
In less than 12 months, you may be able to improve your credit score.
Tracking your spending habits can help you budget effectively.
It's crucial for military members and veterans to have access to credit that helps them pay bills, make purchases, and manage a healthy credit history. You can use a military credit card for buying a family computer, new tires for the truck, and regular household items. This credit card behaves like any other credit card. Theft and fraud protection, extended warranties on qualified purchases, and online account services come free to all cardholders. Learn more about the complete list of features that are awarded for you or your family member's service. Apply for a military credit card today!

Apply for Card